Fatehpur Sikri is built in red sandstone, and is a beautiful blend of Hindu and Islamic architectural elements. The sandstone is richly ornamented with carving and fretwork. Fatehpur Sikri was abandoned 14 years after its creation. A shortage of water is believed to be the reason. Today it is a ghost city, its architecture is in a perfect state of preservation, and wandering through the palaces it is easy to imagine that this was once a royal residence and a dynamic cultural centre.
Today, as one enter Sikri from the Agra Gate, one of the nine gateways on the way to the palace complex, Diwani-I-Aam, or the hall of public audience appears first. It is a huge rectangular walled-in countryard where petitions were heard, proclamations made, embassies received and entertainment programmes held. The royal balcony, set within a frame of jail screens, appears on the western front. In front of the royal seat, a stone hook is still found embedded in the ground. As per tradition, Akbar's pet elephant Hiran was tied to this hook to crush to death under its feet the head of the guilty. If it refused to obey thrice, the victim was freed.
The Buland Gate
This gate is the entrance into the courtyard around the great mosque at Fatehpur Sikri, the Jami Masjid, which served as a model for later congregational mosques built by the Mughals.
Darga Salim Chishti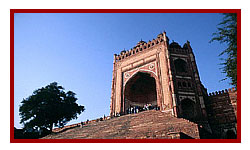 This white marble structure contains the tomb of Shaykh Salim Chishti, the Sufi holy man who was Akbar's adviser and teacher. Akbar came to him originally because he had been unable to produce a male heir, and Shaykh Chishti promised that Akbar would have a son if Akbar entrusted the education and upbringing of the boy to Shaykh Chisti. The prediction came true, and Akbar's son Jahangir was indeed raised by the Sufi holy man. In addition, Akbar had the entire city of Fatehpur Sikri built around Shaykh Chisti's abode, which was about 24 miles west of Agra.
The Panch Mahal
This view of Fatehpur Sikri shows the tallest tower in the palace complex, the "Panch Mahal", and in front, a building that according to legend was the school for Akbar's numerous wives. To the right of the school, which has 176 pillars is the huge parchesi "board" on which Akbar could play parchesi using slave girls as life-size "pieces."
Diwan-i-Khas
From this elevated platform, Akbar would conduct public audience and hear the entreaties of his subjects without being exposed to potential assassins. The intricate detailing in the stone beneath the platform demonstrates Hindu influence. Remarkably, this structure, as well as the rest of Fatehpur Sikri, was constructed without the use of mortar.