Most preferred package of the platters is
taj mahal tours to agra
. Not only it attracts travellers because it is one of the seven wonder of the world or epitome of love or monument of love or comes under world heritage sites but also each & every visit gives you new & different experience and new amazing facts of architectural beauty. Only 2 days tours to taj mahal agra is sufficient to make it holidays of your life. In a day it changes its colour at morning ( specially at sunrise ), afternoon and evening ( at sunset ) so must visit at these time specially. Not only in India it is prime attractions but also all over the world people talk and plan to visit and see this stunning buliding and some come again and again. You can enjoy this short tours individually, family or in group throughout the year. Some people prefer to visit september to March when weather is more suitable and pleasant & this is also the best time of the season for travellers. Only 4 hours drive from Delhi make it more accessible place & attraction to visit during Delhi, India trip. Far better Noida Expressway & luxury trains from Delhi make it more comfortable to travel. Hotel Leela is coming with new hotel near to the Taj mahal to provide best of luxury to tourist. Online taj mahal tour bookings is also available.
"More stunning than I expected" - says Zuckerberg
NEWS : - on dated 27th Oct. 2015 facebook founder Mark Juckerberg visited the great monument of love - The Taj mahal and spent several hours there.
Hollywood star "Orlando Bloom" visited The Taj Mahal on dated 22/12/2015 & spent hours there.
Myanmar president will visit on 28th August 2016 in between 12pm to 2pm that's why it would be close for tourist between this time.
Day 1 Arrive Delhi
Upon arrival company representatives will meet & assist you at the international airport in Delhi & transfer to your pre booked hotel as mentioned in tour plan. Overnight stay will be at the Delhi hotel.
Day 2 Delhi
After an early breakfast in hotel you will set out on a guided tour of combined OLD & NEW Delhi. Visit Qutab Minar, The India Gate, Visit Jama Masjid, the largest mosque in India - Built by Shah Jahan, the construction was started in 1844 and was not completed until 1658, witness the Red Fort; Visit Humayun's Tomb - built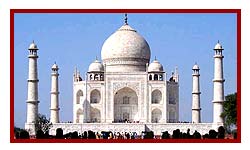 in mid 16th century this is an early example of Mughal architecture, Lotus Temple, Jantar Mantar, President House, Akshardham Temple. The city tour ends with a visit to Laxmi Narayan Temple (Birla Mandir). Dinner and overnight stay will be at the hotel.
Day 3 Delhi - Agra Taj Mahal Tours
After an early braekfast drive to Agra to visit incredible Taj Mahal enjoy battery van ride till the gate of heritage monuments Taj mahal. Later drive to the deserted town of Fatehpur Sikri with its wonderful red sandstone monuments on the way. Check in at a luxury hotel on arrival in Agra where you stay overnight.
Day 4 Agra - Delhi
Again visit the Agra Taj mahal early in the morning at the time sunrise. Agra is famous as being home to one of the Seven Wonders of the World - The incredible Taj Mahal. The architectural splendor of the mausoleums, the fort and the palaces is a vivid reminder of the opulence of the legendary Moghul Empire, of which Agra was the capital in the 16th and early 17th centuries. The 16th century Agra Fort, houses a number of exquisite buildings: the Moti Masjid (pearl mosque), Diwane-I-Am (palace for general audience), Diwane-I-Khas (private palace), Anguri Bagh (wine yard), Sheesh Mahal (hall of mirrors), and the Musamman Bhurj (Jasmine Tower) where Shah Jahan died as a prisoner of his own son.
After the tour of the fort, you will be taken to visit the magnificent mausoleum, Taj Mahal, erected by Shah Jahan in memory of his beloved wife, Queen Mumtaz Mahal. Begun in 1631, 20,000 workmen took 22 years to complete it a dream in white marble which lies in perfect proportion to the elegant garden of fountains. Enjoy lunch in the hotel. After lunch in the hotel, drive back to Delhi enrouting Sikandara Tomb and upon arrival to Delhi directly transfer to airport to catch a flight for scheduled destinations / home woth sweet memories of heritage site of the Delhi, Agra and fatehpur sikri along with Incredible wonder of world and also famous as monument of Love The Taj Mahal In Agra India.