The range of the Asiatic Lion at one time stretched from northern Greece across southwest asia to eastern India. It became extinct in eastern Europe around A.D. 100, and in Palestine around the time of the Crusades. Till the mid-1800's it remained widespread elsewhere.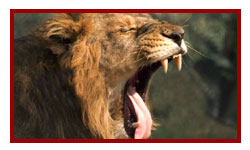 The invention of gunpowder and the advent of 'sport' hunting throughout the British Empire decimated the lion population. By the late 1800's, lions had disappeared from Turkey, and the last reports from Iraq and Iran date to 1918 and 1942 respectively. The lion continues to be an important part of Indian Wildlife and is preserved in the Gir National Park, in Gujarat, India.
The Gir forest was constituted a wildlife sanctuary in 1965 and expanded to its present size of 1153 km² in 1974. A tract of land, nearly 150 km², was declared a national park in 1975 and enlarged to its present size of 259 km² in 1978. Dry deciduous forest, dominated by teak (Tectona grandis), covers nearly 70% of the Gir PA. The remaining eastern portion has thorn savannah with various Acacia species. Five perennial rivers drain the PA with evergreen vegetation along their banks. The mean annual rainfall in western Gir is 1000 mm and in eastern Gir 650 mm. Temperatures recorded at the Sanctuary headquarters in Sasan range between 7°C and 46°C.
The main attraction of the place is the "lion shows", organized by the park authorities in the Dewaliya area, which are a sure-shot way of seeing the magnificent big cats. These "spectacles" for the public are hopefully soon going to be axed, as is proposed by the more thoughtful of the governing bodies, and a safari park instead is to replace them with an area of around 1000 acres being set aside with a higher population density of lions to enhance sighting chances. The Gir National Park in India proves to be a protected area for the lions but threats like human settlements, loss of habitat and prey species are obvious. The biggest threat to the lion population is poaching. Though the punishment for poaching is exemplary, poachers do make bids to bag lion skins. Even the nails of a lion are at a premium. It is believed that since a lion himself is brave and majestic, some of those qualities must be inherent in his body parts. Hence the non-perishable nail, mounted in gold and worn as a talisman, chiefly to infuse courage into a timid person.
Of major importance is the fact that the Gir has become a very stable ecosystem with tremendous regenerating abilities and is self-supporting and sustaining due to its rich and diverse flora and fauna. The Gir is a unique ecosystem which harbours over 450 plant species, 32 species of mammals, 24 species of reptiles, over 310 species of birds, and more than 2000 species of insects.
Forest type
Dry Deciduous Teak Forest
Tectona grandis, Diospyros melanoxylon, Terminalia, Mitragyna parvifolia, Wrightia tinctoria, Aegle marmalos,Butea monosperma, Balanites aegyptica
Dry Deciduous Mixed Forest
Terminalia crenulata, Garuga pinnata, Lannea coromandelica, Acacia catechu, Xeromphis spinosa, Grewia spss, Ficus sps.
Open Scrub Forest
Acacia nilotica, Acacia leucophloea, Zizyphus sps, Balanites Aegyptica, Carissa sps, Wrightia tinctoria.
Riverine Forest
Emblica officinalis, Terminalia crenulata, Tamarindus indica,Vitex nigundu, Helicteris isora, Ficus racemosa, Jamun.
Thorn Scrub Forest
Acacia nilotica, Acacia catechu, Acacia leucophloea, Aegle marmalos, Zizyphus sps, Balanites aegyptica, etc.
Savannah
Acacia sps. Grasses like Sehima nervosum, Dicanthium Annulatum, Cymbopogon, Chrysopogon, Apulda mutica,Heteropogon, Aristida etc.
Jeep Safari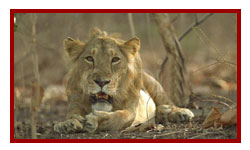 The best way to observe the big cats is, of course, in their natural surroundings, at dawn and dusk, when they are on the prowl. Wildlife viewing in the Gir's is best done, by driving via jeep around the forest.
Climate
The temperatures at the park vary to extremes, as they do with most of the country too. In winters, the temperatures go down to as low as 6 degrees centigrade, while soaring up to a scorching 46 degrees in the summers. The park is open to visitors from November to May but the best time for visiting the park, taking comfort and wildlife viewing into consideration, is December to March. The park offers many excellent drives through scenic areas.
How to reach
State transport buses make the two hour trip between Junagadh and Veraval via Sasan Gir, four times a day. Slow steam trains run to Veraval twice daily, and to Delwada and Junagadh once a day.