Agra was the capital of the Moghul empire, and thus for 200 years one of the most important urban centers in South Asia. Although it is most famous for the Taj Mahal ,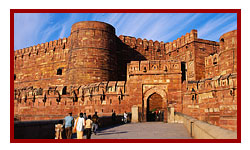 which alone brings many people there, Agra has many other significant historical sites. This picture shows the current entry to the Agra fort, which was built by the Moghul emperor Akbar. This fort was partly used as a palace, and partly as a military stronghold (as is clear from this picture).
Within a radius of 3 kilometers, on the banks of the river Yamuna rises the crescent-like Agra Fort. Designed and built by Akbar in 1565.A.D., the fort is surrounded by a 70-foot high wall. It houses the beautiful Pearl Mosque and numerous palaces including the Jahangiri Mahal, Diwan-i-Khas, Diwan-i-Am and Moti Masjid.