Before making any plan to visit Agra take a moment and think about when one should go to city of The Taj mahal. Of course when the weather is pleasant and commuting from one city to another is easy.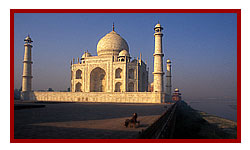 According to seasonwise
September to April
is peak season for this circuit. During this time, most of the tourist visit Agra but during this peak season one should keep in mind to book hotels, car and ticket well in advance. Rate of hotels of each & every categories are on the higher side. but you can enjoy the city tour during day time as well. Do keep in mind the fog factor as the north india is under the blanet of dense fog between 15th December to January. So while planning your schedule do keep a magin a couple of hours to avoid any last minute hassels.
In off season when the weather is not so pleasant ( hot & humid ) between May to August you can get the same categories of hotels / cars at very reasonable rate. Most of the backpacker visit during this time.
Agra is heritage city of north india lots of attractions are there and many comes under "UNESCO world heritage sites" & most important wonder of the world the Taj mahal is also there & is prime attractions among tourist.
Most of the tourist lands in Delhi & visit golden triangle, Agra is part of the north india circuit. Taj mahal is closed on FRIDAY for tourist. It is highly recommended that one should stay atleast 1 day in Agra so that one can visit during sunrise, sunset and afternoon hours to the Taj mahal. So whenever you paln to visit this circuit or Agra keep these thing in mind that can save your time, money and make your journey more comfortable