Pushkar is just 11 -12 Kms far away from Ajmer another holy city of Rajasthan famous for muslim pilgrim dargarh. Pushkar is a great desert resort to rest up in India. It has a many nice hotels with swimming pools and a uniquely Indian holy city atmosphere. It is also famous for its yearly camel festival & lots of cultural activites and games.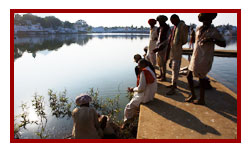 Pushkar is a holy city devoted to Hindu God Brahma. It is a small tourist town surrounding a small lake which the Hindus consider Holy and come to bath in. Pushkar is only a short bus ride from the city Ajmer, but seems a world away with only small roads with limited traffic and surrounded by desert. It is a great place to walk around watching the street vendors selling trinkets, langur monkeys running from roof to roof, and cows peacefully eating trash along the side of the road.
Pushkar is a great place to take camel, cart or horse safaris out into the surrounding desert. There are many travel agents offering single day or multi day trips. There is also a camel fair, I think in November, but I was not there at that time of the year.
The legendary colour of the camel mela, combined with the beautiful desert scenery and heady religious atmosphere of the temples and ghats have inevitably made Pushkar a prime tourist destination. In fact, it's hard to think of anywhere else in India, apart from perhaps Manali, Kovalam and the resorts of Goa, that has been so thoroughly transformed by mass tourism over the past decade.
The main bazaar, which only fifteen years ago comprised a string of stalls selling traditional puja paraphernalia, is now a kilometre-long line of shops crammed with hippy trinkets, full moon party fluoro outfits, jewellery and fusion CDs, while the streetside caf's churn out banana pancakes and mind-blowing bhang lassis for a clientele clad in gaudy Glastonbury gear. Arriving from less budget-traveller-oriented parts of the country, this may come as a welcome break, but if you've travelled here hoping for a taste of the east, the ravers and relentless didgeridoo music can be a stark disappointment.
History : -
Historically, Pushkar always had great strategic importance and was sacked by Mahumud of Ghanzi on one of his periodic forays from Afghanistan. Later it became a favorite residence of the great Moghula. One of the first contacts between the Moghula and the British occurred in Pushkar when Sir Thomas Roe met with Jehangir here in 1616. The city was subsequently taken by the Scindias and, in 1818, it was handed over to the British, becoming one of the few places in Rajasthan controlled directly by British rather than being part of a princely state.
Culture
The holy lake of Pushkar is believed to have been created by Lord Brahma himself. It is as important as Benaras or Puri. Devout Hindus believe that it is essential to visit Puskar at least once in their lifetime. No pilgrimage is consedered complete without a dip in the holy lake. Pushkar has as many as 400 temples and 52 ghats and the only temple in the country that is dedicated to Brahama is to be found here. While Pushkar is a heaven for the religiously inclined, it is also the venue of one of the country's most colorful cattle fairs.
Shopping in Pushkar : -
An array of stalls all along the main bazaar are renowned for embroidered fabrics and shoes colourful beads and bangles, brass utensils, belts studded with brass, cloth covers for camels with mirror work colourful saddles and leather goods beautiful wall hanging and shoulder bags.
Pushkar Fair : -
Honeymooners can also be a part of the Pushkar fair One of the most popular and charismatic fairs of the desert. many foreign tourist plan their itinerary according to this cattle fair so that they can enjoy colourful and traditional theme of Rajasthan. The time of the fair corresponds to the western month of October / November. Turbaned heads, the colorful veils and skirts of the women bring alive the arid desert. The village women are dressed in their best clothes and finery for the five-day fair.
Brahma Temple : -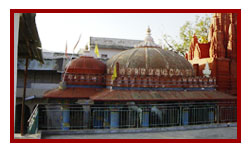 The Brahma temple is the most important temple here and is, in fact, the only Brahma temple of India. This is the only existing temple dedicated to Lord Brahma. Built in the 14th century, it stands on a high plinth with marble steps leading up to it. A red spire marks the temple, and over the entrance gateway is the Hans (goose), the symbol of Brahma who is said to have personally chosen Pushkar as his place. A silver turtle is set on the floor facing the sanctum-sanctorum or garbha-griha. Around the turtle, the marble floor is inset with hundreds of silver coins. The sanctuary has silver doors inside a carved marble gateway.
Pushkar Lake : -
About 11 kms from Ajmer through a winding road is located amidst the Aravali range, this ancient pilgrim center, which according mythology, bestows manifold religious merits upon the devotees who take a dip in this holy Lake. Hindus believe that no piligrimage would bear fruit unless the devotee visited this sacred lake. On bank of lake many ghats are found constructed by Rajas and Maharajas during visit to this place.
Best Time ( Season ) To Visit Pushkar
How to Reach Pushkar : -
Air
The nearest airport is Jaipur from where one can take flights for Delhi and Mumbai.
Road
Pushkar is connected to Shekhawati by road which is around 14 km away. Jeeps and taxis are also available.
Rail
Ajmer is the nearest railway station from where one can take trains for the major destination of India.