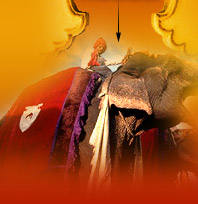 Duration : 8 Nights / 9 Days
Places Covered : Delhi - Jaipur - Agra - Gwalior - Jhansi - Orchha - Khajuraho - Delhi - Scheduled Destination
Day 01 Arrival Delhi
On Arrive Delhi, meet assist at the airport & transfer to hotel. Night stay in Delhi.

Day 02 Delhi Tours
After a leisurely breakfast sightseeing tour of New Delhi where ornate buildings recall the days when India was the Jewel in the crown of the British empire. Visit the 11th century Qutab Minar ,India Gate and the grand government buildings, the President's House, Red fort, Mahatama Gandhi Memorial, Also visit Laxmi Narayan temple popularly known as Birla Temple. Overnight stay in Delhi.

Day 03 Delhi - Jaipur
Early morning pick up from hotel & transfer to railway station to board the superfast airconditioned train to Jaipur. Breakfast in the train. Arrive Jaipur and transfer to hotel. Later sight seeing tour of Jaipur covering main attraction of Jaipur like Amber fort, Jaigarh Fort, Hawa Mahal, Royal City Palace, Birla Mandir, Jantar Mantar ( Observatory ) etc. Overnight stay in Jaipur.

Day 04 Jaipur - Agra
Morning drive to Agra via Fatehpur sikri, a perfectly preserved red sandstone "ghost town" which was the estranged capital of mughal emperor Akbar, built in 1569 and deserted when its water supply failed. Arrive Agra and transfer to hotel. Night stay in Agra.

Day 05 Agra Tours
Morning at sunrise visit the magnificient Taj Mahal - one of the seven wonders of the world surely the most extravagant expression of love ever created. 20,000 men laboured for over 17 years to build this memorial to Shah Jahan's beloved wife.Also visit the Red fort - the rusty and majestic red- sandstone fort of Agra stands on the banks of the river Yamuna and the construction was started by Emperor Akbar in 1566. At the Diwan-I-Am (hall of public audience),a colonnaded hall of red-sandstone with a throne alcove of inlaid marble at the back, the Emperor heard public petitions. At the Diwan-I-Khas (hall of private audience) where marble pavilions with floral inlays lend an ethereal ambience, the Emperor sat on his gem-studded peacock Throne and met foreign ambassadors and rulers of friendly kingdoms. Evening free to explore the rich handicrafts of Agra. Night stay in Agra.

Day 06 Agra - Gwalior
Morning transfer to railway station to board the train to Gwalior. Arrive Gwalior & transfer to hotel. Later tour of this historical site with magnificient heritage fort and palace in Gwalior and other heritage attractions. Overnight stay will be at Gwalior.

Day 07 Gwalior - Jhansi - Orchha
Morning transfer to railway station / private car to Jhansi, arrive Jhansi & see major attractions of is jhansi heritage fort and then drive to Orchha & transfer to hotel. Later tour of this historical site with magnificient temples and monuments. Some of the palaces were decorated with painted murals which represent the finest flowering of the Bundela school of painting. Night stay in Orchha.

Day 08 Orchha - Khauraho
After breakfast drive to Khajuraho. The legendary temples of khajuraho are an incomparable experience. Acknowledged as one of the world's artistic wonders, these temples dedicated to the Hindu pantheon of Gods are covered in carvings that are a paean to life and love. Built within a short span of a hundred years by the Chandela Rajputs, the 10th century temples lay forgotten until they were discovered in the present century. Khajuraho has achieved fame for the sensual appeal of its erotic sculptures.
Arrive Khajuraho & transfer to hotel. Later explore the Western and Eastern temples of khajuraho while your guide explains the intricate meaning and legends behind each describable sculpture. Light & sound show of approx. 1 hour duration is held every evening. Night stay in Khajuraho.

Day 09 Khajuraho - Delhi ( by flight ) - Home
After a relaxed breakfast transfer to airport to board the flight to Delhi to connect the onward flight.

Client Experience during India Visit

Thanks for organising such a memorable trip for us the days which we spent in India will always be cherished by us throughout our life.

We are quite impressed by the hospitality from the beginning to the end of the tour all the things were very well planned and managed; from the guided sightseeing tours to the hotel reservations, cab bookings.

Above all the itinerary & cost provided from various agents helped us to choose the best one. The magnificience of the beauty of the temples of Khajuraho is beyond description. We were almost spellbound to see the beauty of the Taj.

We were fascinated by the richness of the culture and the beauty of India and the Indian people.

T. Martin