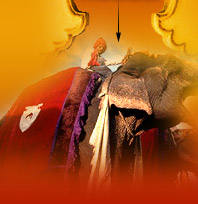 Duration : 15 Nights / 16 Days
Places Covered : Delhi - Jaipur - Ranthambore - Bharatpur - Agra - Khajuraho - Bandhavgarh National Park - Kanha - Nagpur - Delhi
Tiger trails ( safari ) specially in north india is very popular among the tourist from all parts of the globe. Famous tiger trails parks in north India is Ranthambo0re, Kanha and Bandhavgarh. 16 days tiger trails itinerary will gives stunning experience that's you why big cat of India is popular among wildlife lovers. Like other packages this one also start from delhi and visit the famous destinations of Incredible India. 2 days tiger trails each in ranthambore in rajasthan, kanha & bandhavgarh is very thrilling and gives you chance to take some of the amazing photgraph of wild games in jungles.

Apart from wildlife trails we have add some destinations of heritage attractions which are nearby to the wildlife parks or on route to the itinerary. famous destinations like Jaipur heritage forts & palaces, Agra taj mahal heritage tours and visit to heritage temples of khajuraho which is very near to the Panna and Bandhavgrah tiger reserves & can be covered in 2-3 days. Although Panna is not add in this itinerary but if you are interested then it can be adjusted in it according to your days of holidays.

Book this tiger trails in India packages online as well as offline. But online method is more convenient one and travel agents can forward more & more itinerary so that you can opt for best one.

Day 1 Delhi
Upon arrival at the international airport in New Delhi. GTTI tour guide will meet, assist & transfer you to already booked hotel in delhi. Relax from long flight journey & overnight stay.

Day 2 Delhi
After an early breakfast in hotel, you will take a tour of the capital city of New Delhi where you will visit the Qutab Minar, Akshardham Temple, India Gate and the President's Palace. The city is built in a typically British colonial style with tree-lined avenues, colonial bungalows, the Parliament House, the War Memorial Arch and the Vice Regal Palace, now the official residence of the President of India. Then, go down to Old Delhi to visit the Jama Masjid and the Raj Ghat where Mahatma Gandhi was cremated. You will drive past the Red Fort for a photograph opportunity. Return to the hotel late in the afternoon. Rest of the day is free to relax. Overnight stay will at the hotel.

Day 3 Delhi - Jaipur ( 330 Km / 6 hrs. )
After an early breakfast in the hotel, drive to Jaipur. Upon arrival check-in at hotel ( as mentioned in final itinerary ). In the afternoon enjoy a guided sightseeing tour of the Pink City covering City Palace, Palace of Winds - Hawa Mahal & Jantar Mantar Observatory. Visit nearby local market like bapu bazaar, ajmeri gate, johri bazaar, badi chopar and choti chopar etc. for handicraft and antique item. Overnight spend at the hotel.

Day 4 Jaipur - Ranthambore
Enjoy a elephant ride while visiting the Amber Fort. After lunch drive to finest national park Ranthambore ( in Rajasthan ). Upon arrival check-in at resort and view some slide of the jungle safari and then take a jeep safari to Ranthambore National Park (5 hr.). Arrive back to the resort in the evening. Overnight at the wildlife resort.

Day 5 Ranthambore Tiger Trails
After an early breakfast enjoy the morning and evening safari in open cabters and jeeps to Ranthambore Tiger Reserves and spend time tracking tigers and viewing other wild species and wildlife attractions in ranthambore national park. Overnight at the resort.

Day 6 Ranthambore - Bharatpur Bird Sanctuary ( 6 Hrs. )
Have some wildlife watching early in the morning and tiger tracking in open-top trucks and jeeps. After lunch, drive to Keoladeo National Park. Arrive back to the resort in the evening. Overnight stay will be at the hotel.

Day 7 Bharatpur - Agra
Enjoy a day inside the Bharatpur Bird Sanctuary on a cycle rickshaw. Overnight will be at the hotel.

Day 8 Agra
After an early breakfast in hotel depart for Agra and en route visit the Fatehpur Sikri. After lunch, enjoy a guided tour of beautiful Taj Mahal. visit Agra Fort - really a city within a city which embraces the Moti Masjid, the Diwan-i-Amor the Hall of Public Audiences, the Diwan-i-Khas or the Hall of Private Audiences, the Octagonal Tower, Jehangir's Palace and many more monuments. Overnight will be at the hotel.

Day 9 Agra - Khajuraho
After an early breakfast drive to Khajuraho. Arrival at Khajuraho. After lunch, guided city tour of Khajuraho temple complex. Overnight stay in a hotel.

Day 10 Khajuraho - Bandhavgarh National Park ( 6 Hrs. )
After an early breakfast leaving for Bandhavgarh National Park. Arrival at Bandhavgarh by noon. Afternoon visit to the park in jeeps for tiger tracking. Overnight at a wildlife resort.

Day 11 Bandhavgarh Tiger safari
Enjoy jeep safari in the park during morning and evening. Overnight will be at a wildlife resort.

Day 12 Bandhavgarh - Kanha National Park ( 7 Hrs. )
After an early braekfast in resort visit early morning to the bandhavgarh tiger park. Later after lunch, drive to Kanha National Park. Arrive at Kanha in the evening. Overnight at a wildlife resort.

Day 13 & 14 Kanha National Park
Morning and evening jeep safari at Kanha for tiger tracking, exploring the park's natural wild or bird watching. Overnight at a wildlife resort.

Day 15 Kanha National Park - Nagpur ( 5 Hrs. )
Morning jungle visit in the park. After lunch drive to Nagpur. Overnight at the hotel.

Day 16 Nagpur - Delhi - Onward Destination
After an earlty breakfast in hotel. Check out from Hotel & transfer to airport to catch the flight from Nagpur to Delhi in the morning. Day room in delhi at your pre booked hotel. Transfer to the airport for your connecting flight to the onward destination with sweet memories of tiger trails / tiger safaris in India.