The City Palace is located in Pink City, Jaipur and has an imposing blend of traditional Rajasthan and Mughal architecture. The vast palace complex occupies one seventh of the walled city of Jaipur. The City Palace was originally built by Maharaja Jai Singh II of the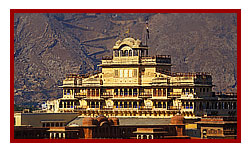 Kachhwaha clan of Rajputs. Later several additions were made to the palace complex by many of his successors. The City Palace is the core of the royal residences in Jaipur.
The complex is divided into a series of courtyards, sprawling gardens and buildings. The main places inside the complex are the Chandra Mahal, Mubarak Mahal, Badal Mahal and Shri Govind Devji Temple.
There is a magnificent gateway with a grand door in brass opening to a stately courtyard. In this courtyard lies the Diwan-I-Khas or 'Hall of Private Audience'. It is an open hall with a double row of columns with scalloped arches. On display are the two largest silver vessels in the world which are also placed in the Guiness Book of World Records. These vessels were used to carry water from the holy Ganges by Madho Singh II on his journey to England. 242.7 kilograms of silver was required to cast each vessel, which could contain 8182 gallons of water.
The uppermost storey is called the Mukut Mahal. Opposite the chandra Mahal lies the Baldal Mahal. The Govind Devji temple stands inthe middle of the Chandra Mahal and Badal Mahal. A delightful system of fountains is placed in the middle of the paved path between the Chandra Mahal and the Badal Mahal. The palace has extensive and sprawling gardens.
Outside the buildings, you may see a large silver vessel which a former Maharaja used to take drinking water with him to England. Being a devout Hindu, he could not drink the English water!
Nearby Excursion to City Palace
Jaipur is full of tourist attractions so one of the prime attraction which is very near to royal city palace if jantar mantar which is known as Observatory or sun clock ( time is read by the shadow of the wall of different structure during day time ). It is doable only at day time when sky is clear. That shows the architectural work & knowledge of the star during that era.