The Jal Mahal Palace, or Water Palace of Jaipur, is noted for its intricate architecture. Built in the mid 18-th century by Madho Singh I, Jal Mahal was developed as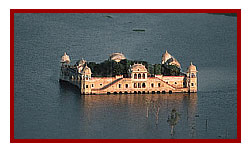 a pleasure spot, and was based on the Lake Palace of Udaipur, where the king spent his childhood.
A causeway leads to Jal Mahal Palace in the middle of Man Sagar lake, opposite the cenotaphs. The first four floors of Jal Mahal is under water, only the top floor remains outside. Jal Mahal's terrace garden is enclosed by arched passages, and at each corner, there is a semi-octagonal tower capped by an elegant cupola.
Built to be a pleasure palace for the royal family in 1799, Jal Mahal Palace (translated as Water Palace) of Jaipur is an extremely romantic place with its red sandstone intricate architecture casting beautiful reflections in the calm waters of the Man Sagar Lake, full of hyacinths. Surrounded by Nahargarh Hills, Jal Mahal is known for its majestic architecture and sophisticated design.
It was once used for the royal duck shooting parties. It has also been home to one of the prime ministers of Jaipur estate. Though abandoned, it is very well-preserved and provides a picturesque view from Nahargarh Fort. Set opposite the cenotaphs of the royal family, the first four floors of Jal Mahal is under water and only the top floor is above the water level. The lake eco system is a favorite home of a number of migratory and resident birds. The Mansagar Dam is situated on the eastern side of the lake and provides a good vantage point for viewing the lake and the valley.
The palace is set amidst 18 acres of beautifully landscaped Mughal gardens, spread over 3 levels. The 255 year-old Jai Mahal Palace, is a masterpiece in the Indo Saracenic style of architecture. The hotel has 102 rooms designed to transport guests into a world of unimaginable opulence and luxury. The hotel which was once the home of the Prime Minister of Jaipur, is set in beautiful Mughal gardens. The palace is located downtown, close to the main shopping area and historical monuments.