One of the most famous of five observatories, Jantar Mantar, in Jaipur, is built by Sawai Jai Singh. The Jantar mantar is a mis-prounounciation of Sanskrit word Yantra Mantra. It was built to check the astronomical observation at Jaipur.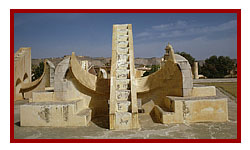 The Jantar Mantar at Jaipur was conceived as a quest for discovering the mysteries of the Cosmos .The sun dial of Jantar mantar is one of the major tourist attraction Sawai Jai Singh sent his ambassadors to all parts of the world before starting the construction of this observatory.
The ambassadors returned with many manuals on astronomy containing cutting-edge technological information. One of these manuals was a copy of La Hire's "Tables". The king ordered the observatory to be built according to the details contained in this manual.
In Sanskrit, 'Jantar Mantar' is used for 'Magical Devices' and it is undoubtedly so with the huge masonry instruments, which were placed here to measure 'the harmony of the heavens'. The samrat yantra consists of a massive triangle with a curved structure on both sides. The jaiprakash yantra is a two hemispherical bowl structure representing the celestial spheres and the use of a vertical rod in the center, giving different positions of celestial bodies during the day and night.
The ram yantra is in the form of a high cylinder. It is surrounded by circular walls and the shadow of the sun on the vertical and horizontal marble gradations via the cylinder, indicates the altitude and the azimuth or declination of celestial bodies. The composite instrument is heart shaped and includes a sundial and a massive hemisphere on the northern wall. Sawai Jai Singh's attempt to introduce a renaissance in astronomy through Jantar Mantar never took off due to chaos in the country.
The first Indian Prime Minister Pandit Jawaharlal Nehru said that so accurate was his work that Jai Singh would have been remarkable anywhere. Thoroughly restored in 1901, the Jantar Mantar was declared a national monument in 1948.
Other instruments include Dakshina yantra used for observing the position and movement of heavenly bodies when passing over the meridian and the Large Samrat Yantra, is ten times larger than the Samrat Yanta and ten times more accurate too. It is accurate down to 2 seconds and is also used to predict the length and heaviness of the monsoon for the local area. The Rashivalayas Yantra has 12 sundials for the signs of the zodiac while Jai Prakash Yantra act as a double check on all the other instruments.