Located within the city palace complex and nestled amidst old buildings, temples and the palace quarters, this museum was founded in 1959 by Maharaja Swai Man Singh II.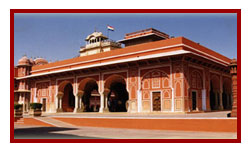 The exhibits consist of the ancestral collections built up by the successive rulers of Amer & Jaipur, and presently run by a public charitable trust. A small selection of paintings, manuscripts, weapons and armours was displayed in the Pothikhana (library) and the Silehkhana or armoury (both of these in their present form were established in 1952) of the palace.
However, the collection remained exclusive and was shown only to selective visitors and dignitaries with the special permission of the Maharaja. In 1959, this private museum consisting of the Pothikhana and the Silehkhana was thrown open to public and a new Textile and costume gallery was added to it.