Bharatpur Bird Sanctuary (Keoladeo Ghana Natiuonal Park) is one of the finest bird parks in the world, that offers protection to faunal species as well.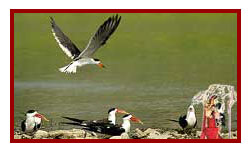 Nesting indigenous water- birds as well as migratory water birds and waterside birds, this sanctuary is also inhabited by Sambar, Chital, Nilgai and Boar. Over 350 species of birds find a refuge in the 29 sq km of shallow lakes and woodland, which makes up the park. A third of them are migrants, many of whom spend their winters in Bharatpur, before returning to their breeding grounds, as far away as Siberia and Central Asia. Migratory birds at Keoladeo include, as large a bird as Dalmatian pelican, which is slightly less than two meters, and as small a bird as Siberian disky leaf warbler, which is the size of a finger. Other migrants include several species of cranes, pelicans, geese, ducks, eagles, hawks, shanks, stints, wagtails, warblers, wheatears, flycatchers, buntings, larks and pipits, etc.
Best time to visit
Keoladeo National Park is open to visitors throughout the year , but it is more rewarding to visit it between August to end of March. The best way to see the park is on foot. Other options available are to see it on cycle or a cycle rickshaw. Both are available on hire. Cycle rickshaw pullers have been trained by the forest department in bird watching and are knowledgeable. Boats are also availble for a trip of the lake area. A boat trip early in the morning or in the evening is quite a rewarding experience.
Since migratory birds are the center of attraction, the time you visit is very important. It is ideal to be there from late Nov to early Feb. You can start the tour of the sanctuary by going on the boat as it takes you very close to the roosting birds. After the boat ride, you can go along the road on the rickshaw. These rickshaw drivers are guides in their own way and will take you to the right spots.
Cycle hire is another way you can move and so is walking. In addition to the birds, Keoladeo is home to a wide range of mammal and reptile species, including deer, jackals, blackbuck, fishing cats, otters and blue bulls. Do take a pair of binoculars with you along with a camera. The excitement of seeing a variety of water birds will began before you reach the sanctuary entrance.
Today, the Park supports a population of 375 species of birds along with many mammals and reptiles. You can watch terrestrial birds like red wattled lapwing, grey partridge, black partridge, common quail, bush quail, pea fowl, jungle fowl, etc., nest on the ground along with the resident bird like the Sarus cranes. Among the latter, the highly endangered Siberian Cranes, which come to nest in winter, are the rarest. Your local guide will know exactly how many of which birds visit this area as they usually keep a daily track of them.
Bharatpur Govenment Museum
One of the major attention grabber after the Bharatpur sanctuary is Government Museum of Bharatpur, which provides a glimpse of the past royal splendour of Bharatpur.
Bharatpur Palace
Not far from the museum is the Bharatpur Palace, an marvellous structural blend of Mughal and Rajput architecture.
Lohagarh Fort
The invincible Lohagarh Fort, which remained unconquered despite several attacks by the British regime.
Deeg Palace
Situated just 32-kms away from Bharatpur is the Deeg Palace. A strong and massive fortress, Deeg Palace was the summer resort of the rulers of Bharatpur and houses numerous beautiful palaces and gardens.
How to reach
Air
Agra 56-km is the nearest airport.
Rail
Regular rail services connect Bharatpur with several cities on Delhi -Mumbai trunk route, Jaipur and Agra. Some important train connections are : Golden Temple Mail (Mumbai-Bharatpur-Jammu Tawi); Intercity Express (Hazrat Nizamuddin-Bharatpur); Paschim Express (New Delhi-Bharatpur-Mumbai)
Road
A network of bus services links Bharatpur with several cities within and outside the State. Local Transport: Tongas and Cycle-rickshaws are the best way to commute within the city.