Formerly known as North Kamrup, Manas, in Assam, was declared a sanctuary in 1928. In 1985 it was accorded the status of World Heritage Site. The park straddles two rivers, the Manas and its tributary the Hakua, along the Assam-Bhutan border.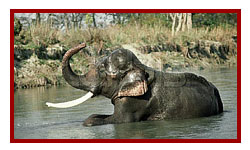 The protected area extends into the Bhutan foothills. Manas houses 19 of India's most endangered animal populations, home to the rare golden langur and a sizeable tiger population. Its wetlands are essential for the survival of the fast-vanishing hispid hare and pygmy hog. The fauna to be found here include the rhino, wild buffalos, elephants, gaur, swamp deer, capped langur and clouded leopard. The park, the eastern range of the chital and habitat of the sambar deer, also boasts a rich and diverse avian population. The main highlight is the giant hornbill, two subspecies of which, the pied and grey varieties, are to be found here.
The core area of Manas National Park is 360 km. Manas is a very special biosphere, for it harbors twenty species of birds and animals that are highly endangered. Among the highly endangered species are the attractive Red Pandas, which are occasionally in the higher elevation. Initially the park was a wildlife sanctuary but in 1990 it was declared a national park. Hispid Hare, Pigmy Hog and Golden Langur are some of the rare species of animals to be found in the park apart from Tigers, Elephants, Rhinoceros, Wild Buffalo, Wild Boar, Sambhar, Swamp Deer, and Hog Deer, which are easily spotted at this park.
Best Time to Visit
The best season to visit Manas Wildlife Reserve is the winter- approximately November to April. The weather's hot and humid through much of the rest of the year. In particular, avoid the monsoons (June to September), when there's heavy rainfall and the park often gets flooded.
Climate
The climate is warm and humid (up to 76 per cent relative humidity) with most rain falling during the monsoon season (May-September). The mean maximum summer temperature is 37°C and the mean minimum winter temperature is 11°C. Mean annual rainfall ranges from 3332mm at Batabari to 4489mm at Kachugaon, based on 11 and 17 years of records, respectively.
Fauna
A total of 55 mammals, 36 reptiles and three amphibians have been recorded (Project Tiger, n.d.). Manas harbours by far the greatest number (21) of India's Schedule I mammals of any protected area in the country. Many are typical of South-east Asian rain forest and have their westernmost distribution here. Mammals include golden langur Presbytis geei (R), a recently discovered endemic restricted to Manas and adjoining areas in Bhutan and numbering approximately 305 in 1980, capped langur P. pileata, Hoolock gibbon Hylobates hoolock, clouded leopard Neofelis nebulosa (V), tiger Panthera tigris (E) the second largest population in India numbering 80 in 1995, although this figure is disputed (Milne, 1997), leopard P. pardus, golden cat Felis temmincki (I), fishing cat F. viverrinus (K), leopard cat F. bengalensis, marbled cat F. marmorata (K), binturong Arctictis binturong, sloth bear Melursus ursinus (I), wild dog Cuon alpinus (V), Ganges dolphin Platanista gangetica, Indian elephant Elephas maximus (E), with up to 2,000 in the tiger reserve and more than 1,000 moving freely between Indian and Bhutan Manas reserves, Indian rhinoceros Rhinoceros unicornis (E), pygmy hog Sus salvanius (E), swamp deerC. duvauceli (V), with approximately 450 individuals (Deb Roy, 1992), sambar Cervus unicolor, hog deer C. porcinus, Indian muntjac Muntiacus muntjak, water buffalo Bubalus arnee (V), probably representing the only pure strain of this species in India, gaur Bos gaurus (V), giant squirrel Ratufa indica, hispid hare Caprolagus hispidus (E) and Indian pangolin Manis crassicaudata. Over 450 species of birds have been recorded (Deb Roy, 1990) including the threatened Bengal florican Houbaropsis bengalensis (E), great pied hornbill Buceros bicornis, wreathed hornbill Rhyticeros undulatus and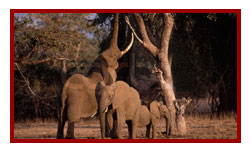 other hornbills. The Bengal florican population was estimated at 34 in 1984 for the national park (Ali et al., 1985) and 80 individuals with 24 male territories were identified within the park during 1988 (Narayan et al., 1989). Pied harrier Circus melanoleucos nested during 1988 and 1989, the first confirmed record for India (Narayan et al., 1989). Uncommon waterfowl species include spot-billed pelican Pelecanus philippinensis (I), lesser adjutant Leptoptilos javanicus (V) and greater adjutant L. dubius (E) (Scott, 1989). Reptiles include a variety of snakes (e.g. vine snake Ahaetulla nasutas, flying snake Chrysopelea ornata, Assam trinket snake Elaphe frenata and banded krait Bangarus fasciatus), gharial Gavialis gangeticus (E) (possibly introduced from neighbouring Bhutan or as a result of a captive breeding programme), and monitor lizard Varanus sp. Assam roofed turtle Kachuga sylhetensis (K) has recently been recorded.
How to reach
By Air
For Manas the nearest airport is Borjhar airport, Guwahati. This airport is well connected with flights from other major cities of the state.
By Rail
The nearest railhead is Barpeta road, located 136-km from Guwahati.
By Road
Kaziranga (Kohora) to Guwahati 217 km, Jorhat 96 km, Furkating 75 kms.