Located in Chattarpur district of M.P. state of India. Panna is very near to Khajuraho approx. 25-30 Kms. far away and famous for its wild species and tiger safari. Panna is also famous for its open cast Diamond mines in India.
Panna is spread into 543 square kilometer dense forest and is natural habitat for many birds and wild animals.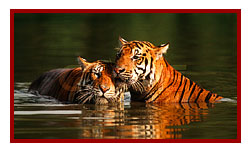 In year 2007 Panna is awarded best nature friendly wildlife park in India. It comes in central India and well known wildlife park and tourist destinations in Madhya Pradesh. Major jungle safari start from Madla village and Hinauta point. Boat ride can also be enjoy during jungle safari. As it is very near to Khajuraho so best destinations for heritage temple visit in Khajuraho and wildlife sagfri in Panna.
Wild Attractions of Panna / Wild Species In Panna
Panna is famous for its tiger safari apart from tiger many wild species which are famous are deer, antilopes, leopard, hyena, jackal, wld Boar, sambar & langur etc. Besides these mammals, many birds are there which are attraction among the tourist. variety of snakes are also there mainly python and cobra is found.
Wildlife / Tiger Safari
This park can be explored every morning and evening in jeep / canter / elephant to vier wild games in jungle. Morning time is best time according to naturalist for tiger watching. Very promiment to take photgraphy during tiger safari.
Timing for safari
You should reach at entry gate atleast half an hour before the schedule entry time to complete the formalities.
In morning - 6:30 am to 10:30 amd
In evening 2:30 pm to 5:30 pm
Best Time To Visit Panna
Panna comes in northern - central region so best time to visit park is from October - June. Rest of the time park is closed due to rainy season.
park charges
For Indian Rs. 40/- for entrance
For Foreigners Rs. 500/- for entrance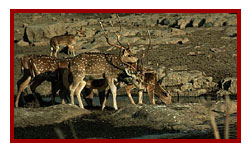 Note : Pls. follow the guideline of the wildlife park for hassle free, safe and enjoyable safari.How to Reach Panna
» Air
The nearest airport is Khajuraho from where you can hire taxi and reach the Panna National park.

» Rail
Nearest railway station is Khajuraho. Satna ( 70 Kms ) is another one. Jhansi is about 190 Kms. far away.

» Road
It is connect from many places so you can take bus from that palce to panna.