Ranthambore tiger reserve's romantic setting, with a 1000 year old abandoned fortress, turquoise lakes and above all it's `friendly' tigers have made it one of the most filmed wildlife sanctuaries in the world. Tigers are readily observed during daylight, hunting or lazing about, oblivious of cameras and jeep-loads of tourists.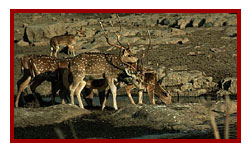 Ranthambore was once the private hunting grounds of the Maharajas of Jaipur and it's royal heritage manifests itself in the picturesque hunting lodges, chhatris and old fortifications that dot the park. I have visited Ranthambore two times, during November 1995 and October 1998, and saw wild tiger on both occasions.
Ranthambore forest was the private hunting resort of the Maharaja of Jaipur. It was declared the Sawai Madhopur Wildlife Sanctuary in 1955. But the Maharaja of Jaipur was permitted to hunt in the Sanctuary till the 1970s. Hunting was totally stopped in 1970.