The tomb of Itmad-ud-Daulah is as interesting as the life of the person for whom it was built. Mirza Ghiyas-ud-din or Ghiyas Beg (later known as Itmad-ud-Daulah)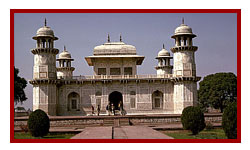 was a poor merchant and lived in Persia (modern-day Iran). While on his way to India for business, his wife gave birth to a baby girl. As the family was extremely poor and had nothing to eat, the parents decided to abandon the child. However, the wails of the baby girl forced the parents to come back and take her with them.
The baby girl brought a stroke of good luck to her parents, for Ghiyas Beg found a caravan that straightaway took him to the court of the great Mughal Emperor, Akbar. In the course of time, Ghiyas Beg rose to become a minister and a trusted treasurer in Akbar's court. After Akbar's death in 1605, his son Jahangir became the Mughal emperor, who made Ghiyas Beg his chief minister or Wazir. Ghiyas Beg was also honored with the title of Itmad-ud-Daulah or the pillar of the state.