Jami Masjid is one of the largest mosques in India. Built in 1571 A.D., it is the most scared building in Fatehpur Sikri and has, therefore, been built on the highest point. The mosque has a vast courtyard. Towards the corner on the right side, is the Jammat Khana hall and next to which is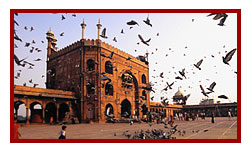 Zenana Rauza, the Tomb of the Royal Ladies. It has tomb of Islam Khan, and Sufi shrine or 'dargah'. The tomb of Sheikh Salim Chisti is worth seeing. Originally it was built in red stone and was later faced in marble by Jahangir. It's lattice screens are the most intricate and beautiful in the world.
Jama Masjid is beautifully decorated with paintings, inlaid stones, carvings and glazed tiles. The building comprises of pillared Dalan, a beautiful 'Chhajja' and the 'Chhatri' on the roof. The main Iwan of the building is rather simple and contains a central arch with geometrical designs. The monumental gateway, Buland Darwaza is the main entrance to the mosque. The other entrance is Badshahi Darwaza, which is towards east.