Akbar was the third emperor of the Mughal dynasty. Before his death in 1605 Akbar started building the magnificent eddiice at Sikandra which was later completed by he son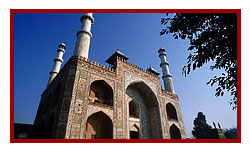 Jahangir. The tomb stand in a large walled garden which can only now be entered through an magnificent gateway. This gateway is covered is covered in floral decorations in white and coloured marble. On each corner is an elegant minaret in white marble.
The tomb itself is mainly built in Re sandstone in a five tiered bright and airy style. The top tier is of white marble and a replica of the sarcophagus lires open to the sky. Akbar's grave though is in the basement which we entered through portico covered in persian style inscriptions.