Durga and Shiva are the other major deities housed in this temple. Mention must be made of the Buddha temple in this complex. Access and Accommodation : Accomodation is available in the temple guest house for out of town travellers especially for international scholars pursuing knowledge in Sanskrit or in the Hindu religion.
The highest tower in the temple reaches a height of 165 feet while the ancillary towers reach 116 feet. The Geeta Bhavan, a hall is adorned with beautiful paintings depicting scenes from Indian mythology. There is also a temple dedicated to Buddha in this complex with fresco paintings describing his life and work. The entire complex, especially the walls and the upper gallery are full of paintings carried out by artists from Jaipur in Rajasthan. The rear of the temple has been developed as an artificial mountainous landscape with fountains and waterfalls. The beautiful Birla Gardens are a real Eden on earth as they have been grafted with the adoration for the almighty.
The temple is built in the Nagara style of architecture interspersed with modern influences. The entire temple is adorned with relief carvings depicting the scenes from mythology. 101 skilled pundits from Benares, headed by Acharya Vishvanath Shastri, carved the idols of the temple. One can find a number of friezes and artistic sculptures add to the aesthetic beauty of this temple.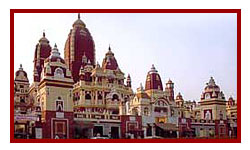 The highest Shikara of the temple above the sanctum sanctorum soars 160 feet high. The temple faces the east and is situated on a high plinth. It leades to a platform from where a few more steps lead to sanctum sanctorum. This chamber is dedicated to Lord Narayan and Goddess Lakshmi. There are other small shrines dedicated to Lord Shiva, Lord Ganesha and Hanuman. The holy Vedas are also enshrined in this temple. There is also a shrine dedicated to Lord Buddha. The shrine is adorned with fresco paintings depicting his life and work.
The icons of the temple are in marble brought from Jaipur. Kota stone from Makarana, Agra, Kota and Jaisalmer were used in the construction of the temple premises.The Geeta Bhawan to the north of the temple is dedicated to Lord Krishna. The temples premises are dotted with miniature rock temples, which are a craze amongst the children. An artificial landscape complete with mountains and cascading waterfalls add to the beauty of the temple.