People around Jama Masjid
The Jama Masjid area is about people - thousands of them, pavement hawkers, and petty shopkeepers, zari-workers of Motia Mahal, booksellers of Urdu Bazaar, hoteliers and rickshaw pullers. It is they who live history, if not determine it, recalling a bygone era recorded by court historians and myth-makers.
Architectural triumph
The vast paved courtyard is a rectangle nearly seventy-five metres by sixty-six metres. The whole of the western chamber is a big hall, standing on 260 pillars all carved from Hindu and Jain traditions. The central courtyard is accessible from the East, though there are three ways on the other side too. The Eastern side entrance leads to another enclosure containing the mausoleum of Sultan Ahmed Shah. Thus it is an architectural triumph.
Structure
This monument was built between 1644 and 1658 by five thousand artisans. Having three gateways, four angle towers and two minarets standing 40m high, it is constructed of alternating vertical strips of red sandstone and white marble. Originally called the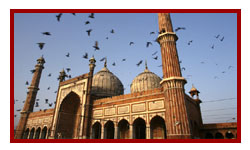 Masjid-i-Jahanuma, or mosque commanding view of the world, this magnificent structure stands on the Bho Jhala, one of the two hills of the old Moghul capital city of Shahjahanabad. Broad flights of steps lead up to the imposing gateways in the north and the south.
The main eastern entrance, probably used by the emperors, remains closed on most days of the week. The main prayer hall on the west side, houses a niche in a wall that shelters the prayer leader. Worshippers use this hall on most days but on Fridays and other holy days, the courtyard is full of devotees offering namaaz. Near the north gate of the mosque stands a cupboard containing a collection of Muhammad's relics - Korans written on deerskin, a red beard-hair of the prophet, his sandals and his footprint, embedded in a marble slab.