The word 'Qutab Minar' means 'axis minaret'. The tower which dominates the countryside for miles around has five storeys, each marked by a projecting balcony.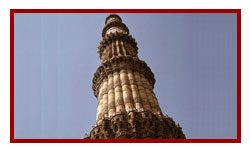 The tower was built in three stages. Qutab-ud-Din completed the first storey. Second, third and the fourth were completed by his successor and son-in -law, Illtutmish in 1230. The minar was first struck by lightening in AD 1368 and the fallen top storey was replaced by two storeys's, the fourth and the fifth in 1370 AD by Feroz Shah Tughlaq (AD 1351-88).
One of the most visited tourist destination of Delhi, Qutub Minar was built in 1199 by Qutub-ud-Din. The sultan's successor and son-in-law, Iltutmish, completed the construction. The purpose of building this beautiful tower is still not very clear.
It is believed by some that, it was built as a tower of victory to signify the beginning of the Muslim rule in India, while others say it served as a minaret to the nearby mosque and was used by the muezzins to call the faithful to prayer. Qutub Minar is 72.5 metres high and one need to climb 379 steps to reach the top.The diameter of the base is 14.3 metres while the top floor measures 2.7 metres.