The ISKCON Temple of Delhi is located at Raja Dhirshain Marg, Sant Nagar, near the East of Kailash locality. It is one of the 40 temples in India that belongs to the International Society for Krishna Consciousness, dedicated to Lord Krishna. A part of the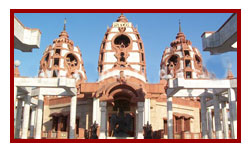 Hare Krishna Movement started by Acharya Bhaktivedanta Swami Prabhupada, the devotees and followers of the Hare Rama Hare Krishna cult built this temple in 1998 to disseminate the message of the Bhagwad Gita.
There are beautiful paintings of Russian artists on the different past times of Radha Krishna, Sita, Ram, Laxman, Hanuman and Chaitanya Mahaprabhu. Special programmes like kirtan, aarti, pravachan and prasadam are held every Sunday between noon to 3.00pm.