Like other city of Rajasthan Jaisalmer also has great history and lots of heritage sights for tourist. But the most important one which most of other city don't have are camel safari on sand dunes. Far out in the Great Indian Thar Desert, Jaisalmer rises like a mirage from the sands, a huge fortified city in the middle of nowhere. Architecturally, the city has a wonderful legacy of old buildings & havelis, united by the common use of local yellow stone and beautifully preserved due to the isolated location. Enclosed by an imposing sandstone wall, the fort stands on a hill 250 ft. high.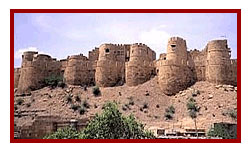 Some of the glories of Jaisalmer are the mansions called Havelis of the Rajput Nobles and merchants. Salim Singh-ki-Haveli has a beautiful arched roof and exquisitely carved details, with brackets in the form of peacocks. A large stone Elephant guards the entrance.
Also visit the spectacular Patwon-ki-Haveli which has exquisitely carved pillars and extensive corridors and chambers; and the Sagar Tank – surrounded by a small temple and shrines.
No tour to Jaisalmer is complete without a trip to the most picturesque dunes of Sam. The ripples on the wind-caressed dunes that create an enchanting mirage is a wonderful view. Various cultural programs are organized against the backdrop of these fascinating sand dunes along with a camel ride to view the sun set over the sand dunes.
Shopping in Jaisalmer : -
Shopping in Jaisalmer can be a heady experience. Jaisalmer is famous for embroidery, Rajasthani mirror work, rugs, blankets, old stonework and antique. One can watch sun sets in Jaisalmer as these provide spectacular sights.
Camel Safari in Jaisalmer : -
Camel safaris are mostly enjoy during early morning hours and in the eveing. All travel agencies and budget hotels has the same tour program : jeep driving, camel riding, night spent in the sand dunes to a cost according to durations time of ride. All camel tours seems to have more or less the same concept but do take care with which travel agency you choose to go. The best seems to be to go with a specialized travel agency to enjoy your ride. The reason to choose to go with a travel agency is that you then can make sure that you get an english speaking camel guide who has complete idea about the desert village route or Dhanis ( small villages in desert ). It is totally different experience to enjoy.
Touist Attractions In Jaisalmer : -
Jaisalmer Fort : -
Jaisalmer fort was built in 1156 and is the second oldest in Rajasthan. Two hundred and fifty feet tall and reinforced by an imposing crenellated sandstone wall 30 feet high, it has 99 bastion, 92 of which were built between 1633 and 1647. The fort is also known as the Golden Fort, for its amber hue, attracting a large section of tourists from all around. Almost one fourth of present Jaisalmer lies inside the complex of this massive fort. The fort nestles over Trikuta Hill and is guarded by number of gorgeous havelis, beautifully carved Jain Temples of the 12th-15th century AD and 5 royal palaces. The Havelis or mansions built by the wealthy merchants in the 19th century within the complex are famed for their exquisitely carved sandstone facades. The fort also has 4 gateways - Akhaiyal, Ganesh Pol, Suraj Pol and Hava Pol. Today, the fort has been populated by merchants and shop owners living within its walls. Small, winding lanes are peppered with houses, temples, and shops. The Golden Fort of Jaisalmer is alive with people going about their daily routine lifestyle.
Government Museum
The Government Museum of Jaisalmer is situated on Police Line Road near RTDC Hotel Moomal. It was opened in 1984. the large collection of wood and marine fossils in the museum gives an insight into the geological past of the area. The sculpture from the ancient townships of Kiradu and Lodurva dating back to the 12th century pulsate with youth and grace and depicts the artistic skill of the time a glass case exhibits the Great Indian Bustards and Tilor which are birds of the desert.
Jain Temples
The Parswanath Temple is the oldest and the most beautiful of the Jain temples. The walls of the sanctum are carved with animal and human figures. There is a small dome which is crowned by an amalak and a waterpot containing a lotus flower.
Folklore Museum
For anyone interested in seeing the culture of Jaisalmer on display through the ages, the Lok Sanskritik Sangrahalaya or the Museum of the Folk Culture situated on the bank of Gadsisar Lake in Mehar Bagh Garden is a must. This museum was established in 1984 by N.K. Sharma, a local connoisseur. This well organized museum is divided into six sections and has a rich collection of paintings, photographs, costumes, hairstyles and jewellery, utility articles of rural life, camel and horse decorations, fossils, ornamental arches, as well as articles connected with folk and cultural lifestyles.
Havelis of Jaisalmer
Havelis of Jaisalmer are some very interesting places to visit. The intricately latticed Havelis of Jaisalmer are elaborately designed. Patwon-Ki-Haveli, Salim Sing ki-Haveli, Nathmalji-ki-Haveli all with exquisite lattice work are worth visiting.


Best Time To Visit Jaisalmer

How to Reach Jaisalmer
Air
The nearest airport is Jodhpur.
Rail
Jaisalmer is connected to Jodhpur by a regular train service.
Road
Roads in Jaisalmer connects it to major cities of Rajasthan, which are well linked to rest of the country.