The city of Aurangabad was founded by Malik Ambar, the Prime Minister of Murtaza Nizam Shah II, in 1610, on the site of a village, Khirki. When Fateh Khan,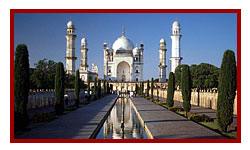 Malik Ambar's son succeeded the throne in 1626, he named the city 'Fatehpur'. In 1653, when Aurangzeb became the Viceroy of the Deccan, he made it his capital, and renamed it Aurangabad. A region that has been inhabited since the Stone Ages, Aurangabad has seen several dynasties come and go, absorbing the culture of each into itself.
History has forgotten the name of Malik Ambar. founder of Aurangabad. Khirhki of the past was renamed Fatehnagar after his son's name. However that name too has been forgotten along with its founder's name. Aurangzeb named it Aurangabad after his own name. Stamp of Muslim culture can be marked here. It is multi-racial com­munity of 6 lakh people with a majority of Muslims.
The city derived its name from the Mughal emperor Aurangzeb. Though it is fast developing into an industrial town, a large number of visitors to it are tourists heading for the famous Ajanta and Ellora caver which lie about 106 km and 30 km from the town respectively. The Aurangabad caves of Buddhist origin are 7 km away.
They include chapels and monasteries, some of which have fine sculptures. The Bibi Ka Maqbara, five km away, is a mausoleum built between 1657 and 1661 by Aurangzeb for his wife Dilras Banu Begum. The mausoleum is modelled on the Taj Mahal and is considered the first Mughal monument in the Deccan. Panchakki is a 17th century water maill where water energy was used to turn huge grinding stones to grind wheat into flour. Near by us the Tomb of Baba Shah Musafir.
Aurangabad Caves
Just outside the city, lie the Aurangabad caves, excavated between the 2nd and 6th century AD. Tantric influences can be discerned in their architecture and iconography.There are twelve caves in all, a major chunk of which are viharas, of which Caves 3 and 7, are the most fascinating. Cave 3 stands supported by 12 finely carved columns, and sports sculptures portraying scenes from the Jataka tales.
Cave 7 houses an imposing sculpture of a Boddhisattva, praying for deliverance.
Aurangzeb's Tomb
You can visit Aurangzeb's Tomb at Khula-dabad, 25 km distance on the road to Ellora. Its simplicity has tourist appeal. After Au­rangzeb's death in 1707 it was raised at the expense of late emperor's self-earned money by copying from Koran. His son Ajam deco­rated this tomb without edifice with stone lattice. Malik Ambar and other historic fi­gures were buried in adjoining Karbala. The Angrakha (a loose and long robe) used by prophet Mahammad is also carefully pre­served here. There is a Mughal garden near­by- Rani Begam ka Bag. Another 14 km from Khuladabad lies Mabishmal, a lovely picnic spot. You can stay at MTDC's Holi­day Resort.
How to reach
By Air
Indian Airlines and Jet Airways fly daily from Mumbai. Indian Airlines also operates daily flights from Delhi.
By Rail
Aurangabad is well connected to most major Indian cities.
By Road
Aurangabad is well connected to Mumbai (392 km), Nasik (221 km), Shirdi (136 km) Ajanta (106 km), Pune (299 km), and Ellora (30 km).